Site Map & Rules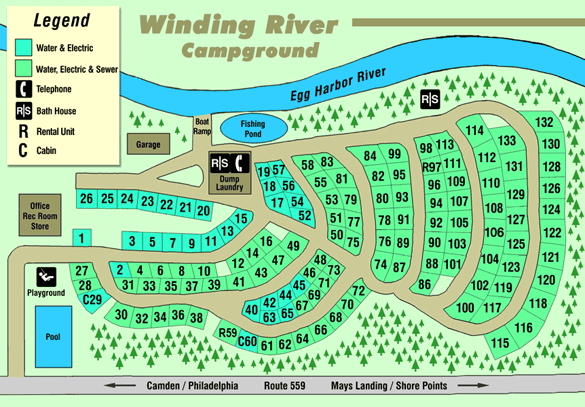 You may click on this map to view and print an enlarged version.


Campground Rules


These rules and regulations will apply to all campers and will be strictly enforced.
If you cannot abide by them, you will be asked to leave.
Please read them carefully.

---
Simple Camping Guidelines for Winding River Campers
The facilities are here for you to use, but not to abuse.
Please drive slowly on all campground roads. Watch out for children.
Please have fun, but please consider those nearby who may be asleep.
Please use the rest room facilities as you would use them in your own home.
Please keep your campsite orderly.
In short, please enjoy camping but with full consideration for other campers.

---
Visitors or Guests: All visitors or guests must obtain a pass to the campground at the office. There is a charge for visitors or guests over 2 years of age.
Rest Room Facilities: Parents are responsible for their children. Do not let them play in the rest rooms. Small children must be accompanied by an adult when using toilets and showers. Our rest rooms are cleaned daily. Your cooporation in keeping them clean is needed.
Curfew: Children under the age of 12 must be on their campsite, under parents' supervision by 10:00 PM. All children over the age of 12 must be on their campsite by 11:00 PM. Please consider other campers by keeping noises to a minimum after 11:00 PM.
Bicycles & Motor Bikes: No bicycle riding after dark. No ATV, dirt bike or motorized scooter riding in campground at any time.
Swimming: Parents must accompany young children when in or near beach or while at the pool. Our pool is only open when a lifeguard is on duty. Check our office for schedule.
Pets: Pets are allowed on leashes. They must be well behaved, with current vaccination records available. You must clean up after your pets. Absolutely no pets in rental units.
Camp Fires: Build fires in fireplaces only. Build only small fires. Do not leave a burning or smoldering fire, especially when leaving the campsite.
Garbage: Please bag or wrap all garbage. Replace lids on cans. Do not remove garbage cans from where they are located. The cans are shared by others.
Telephone Calls: We accept emergency telephone calls at the office only.
Mail: Mail will not be delivered to campsites. Please pick it up at the office.
Campground Trees & Brush: Do not cut trees or brush from campsites or any other place in the campground.

Winding River Campground
6752 Weymouth Road
Mays Landing, NJ 08330
(609) 625-3191 / Fax: (609) 625-7460